Do  you want to take your next Disney World vacation to the next level?  It starts with an attitude adjustment. You know there's a magical feeling immediately as you approach the entry gates of the Disney World property.
Why not get a head start and carry it through your whole vacation?
Here are a few tips I use to make the most of my Disney World vacations:
Disengage From Work
I start a countdown 30 days out on a calendar and mark each day off till vacation launch.  I chat it up with coworkers that I'm going to Disney.  Just about everybody knows I'm going to Disney World and nothing is getting in the way.  Project managers, managers and coworkers all know I'm going.  There's no surprises and it's planned for my time off.  We earn it, don't we?  I gladly fill in and cover for others when they're out of the office.  I want to tie up any lose ends and make sure I have coverage because Geeks, I'm unplugging that last day before my trip and going to FantasyLand for a week.  End of Story.
Engage the Cast Members
The cast members are trained to treat you like royalty.  Ham it up!  I love chatting with the greeters at the hotel.  At the Contemporary, where we stay most often, I love the greeters that help pass the time while I wait in line.  Strike up a conversation and the time flies.  Margita spends half an hour with the CM that's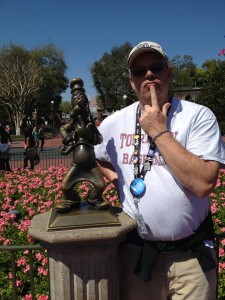 checking us in.  We love it and we can really now begin to get into the Disney experience before we ever set foot in the park.  I'm not normally a real chatty person.  At Disney World, it's more fun to strike up a conversation with everyone including guests and cast members.  Hey, we're on vacation and everybody should be in a good mood.  Where you from?  That's always a great conversation starter.  My daughter and I had so much fun doing pin trading on our last trip.  We had not done this since the kids were little.  I kind of balked on it due to the cost of the lanyard and pins.  I was Grumpy and I was wrong.  After we got home from our last trip, DD went out on Ebay and bought a ton of pins.  We're going to go pin trading nuts on our next trip.  It's fun to engage the cast members.
Join in "The Show"
Some of the best Disney World experiences are the unscripted surprises.  We've had so many, it's hard to recall them all.  One of my favorite stories came from my wife while she walked along in FrontierLand.  I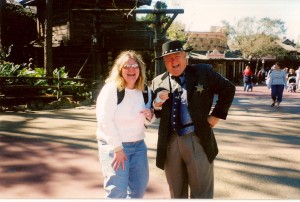 was at a conference at the time but she got a great picture.  She and her sister were minding their own business as they made their way to Splash Mountain through FrontierLand.  It seems she was framed as the Sheriff came up from behind her and slapped the cuffs on her.  I think she nearly split her gut laughing and DSL captured the moment.
Who care's if you're 47 years old and you're acting like a kid?  I look for every opportunity to engage with the Cast Members.  Hey, if I have to be a Power Ranger for a little while, that's what I'm going to do to have more fun.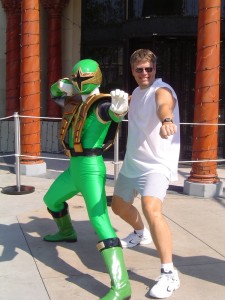 One of the best places to join in the show is at EPCOT.  You can plan your day by just looking for when the CM actors are performing around World showcase.  It can be hard to catch all the acts in one day.  I would suggest doing this on multiple days of your trip.  If you get it the right frame of mind, your going to be in for a good time.  One one of our last trips, we brought along a newbie.  My son's girlfriend had never been to Disney World.  This was not a scripted moment and she had no idea what she was getting into.  I would describe her as shy and likely would not otherwise had joined into part of the EPCOT Italian pavilion show.  I think I can go out on a limb and say that she had a great time joining in with the CM.  We had a great time watching, laughing and clapping at her expense.  Be warned.  Vacationing with us at Walt Disney World means you'll be engaged in all the fun!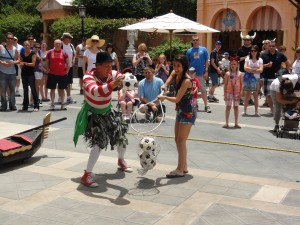 I say, be a part of the show.  Join in the fun!  Be an actor or a dancer or just clap along.  It will make for a great time and enhance your trip.  Who knows, maybe you'll be discovered.
What do you do to enhance the unscripted moments at Disney World?