#1 Disney's Polynesian Village Resort
Our first two stays as a family were in two of the Downtown Disney hotels, the DoubleTree Suites and the Royal Plaza(Now called the 'B').  These were comfortable and affordable.  For our 3rd stay, we continued our research and discovered an amazing annual pass discount to stay 10 nights at the deluxe Polynesian Resort.  We were excited and spoiled for life.
All three of my top picks are in the top spots mainly due to their location.  I highly value the convenience of casually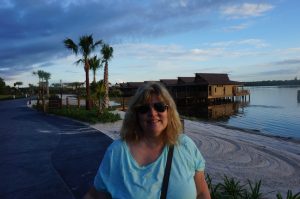 entering or easily traveling to the parks.  The Polynesian is one of the two original Magic Kingdom resorts around the Seven Seas Lagoon and connected to the Magic Kingdom with the monorail.   You can walk to the Ticket and Transportation center to get on the monorail and it's a nice monorail ride to EPCOT.  I enjoy taking a boat to or from Magic Kingdom.  Staying in the Resort Loop resorts makes it fun to explore both the Contemporary and Grand Floridian resorts.
I especially enjoy the relaxing Hawaiian theme of the resort.  Of all the themes on property, the island Polynesian theme is my favorite with the tropical plants, volcano pool, hot tub, pool bar, tiki torches and Hawaiian music playing throughout the resort.  With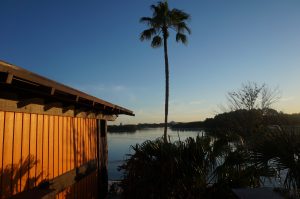 the recent addition of a large quiet pool with cabanas, bar, food and drink station to fill your resort mug, this resort can't be beat.
We were so excited when the DVC rooms were added and they are some of the best.  They have 2 bathrooms which is fantastic after a long day in the parks and two have to go. 🙂  Two showers makes getting ready in the morning faster. The rooms are lake view and really close to the Ticket and Transportation area.
The main house is grand and has some of our favorite lounges and restaurants on all of Disney World property. Captain Cooks is an excellent quick service spot serving flatbread, pulled pork sandwich, a big sandwich with Turkey, Ham, Salami, Roast Beef and the amazing pulled pork nachos.  Tonga Toast is a favorite for breakfast.
Kona is an overlooked restaurant that we have enjoyed many times.  It's Hawaiian themed and can be counted on for a nice meal.  They have a sushi bar if you wish or you can sit down for a steak.  We really enjoy the pineapple bread and breakfast is know for the Tonga Toast.
My favorite restaurant on property is 'Ohana.  I enjoy the food, atmosphere and the family style feeling and the staff is fun.  Check out my blog post on my favorite 3 restaurants here.
The Polynesian just takes my breath away when I enter the property and it's my favorite place to relax and enjoy Disney World.
#2 – Bay Lake Tower
When we decided to buy into DVC, we struggled with buying Beach Club resale or from Disney direct at the new Bay Lake Tower.  In the end, we decided the new Bay Lake Tower and we love it.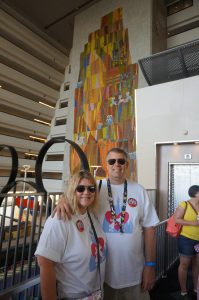 The Contemporary and Bay Lake Tower take criticism for the lack of theming.  We love the contemporary and simple theming.  Again, location is a huge factor for the love of this resort.  It's such a luxury to walk to Magic Kingdom either early in the morning for park opening or late at night after a long day and night time shows.  Getting to the other resort loop resorts and EPCOT is very convenient when the monorail goes right through your resort.
I  enjoy getting a Bay Lake view up high and from my balcony I can see the other parks including Animal Kingdom, Hollywood Studios and EPCOT.  It's a great view and the best I've seen on property.  It's a nice and enjoyable walk over the sky bridge to the Contemporary where I can get my coffee at the Contempo Cafe.  This quick service is a good place for all your meals.  I've stayed in 2 bedroom, 1 bedroom and a studio.  This was the first time at a DVC two bedroom and it's glorious with the master suite, king size bed, three bathrooms, living room, full kitchen and a full deluxe studio as the 2nd bedroom.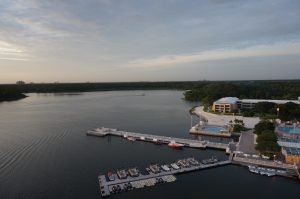 I've had a bad experience at the Wave restaurant and I bet it would be fine on my next visit.  The Contemporary is best known for Chef Mickey's and the California Grill is one of my favorite signature restaurants on property.  There are two large pools for both resorts that you can swim at.  The pools here would come in 3rd place in my top three resorts up against my other two favorites.
I feel "Welcome Home" when I stay at my home DVC resort, Bay Lake Tower.
#3 – The Beach Club
My first Disney World experience was a conference at the Dolphin & Swan resorts.  I got to know Disney's Boardwalk well and fell in love with this area.  Fortunately, I did stay at the Beach Club three times and fell in love with the resort.  My other favorite vacation is a beach vacation at my favorite beach in Wildwood Crest, NJ.  The Beach Club takes you to a typical South Jersey shore resort much like what you'd see in Cape May, NJ.  We visit Cape May everytime we're in South Jersey.  I love the beach style and decor of the resort.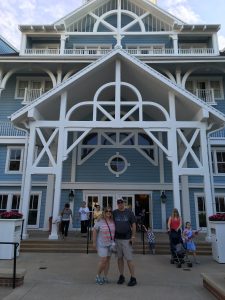 The two stand out things about this resort is the pool and the location.  The pool is a water park with a sandy bottom. It's the most amazing pool on property.  The Boardwalk and EPCOT are just outside your door.  I love the walks from resorts to parks on property and you can walk to two parks from the Beach Club.  I especially enjoy the stroll from the Beach Club to EPCOT's International Gateway.  It's peaceful, beautiful  and so convenient to leave the back door of your resort and quietly enter EPCOT.  It's not a bad walk to Hollywood Studios but a bit longer.  You can also take a friendship boat if you're not feeling like walking.
For restaurants, Beaches & Cream is one of my favorites.  It's casual, fun and great ice cream.  I love buffett's at Disney World and Cape May Cafe is a good seafood based one with all the crab legs and raw oysters you can eat.  One regret is that I've not had a steak at the Yachtsman and hope to rectify that issue one day.  It is one of the most celebrated steak houses on property.  There are some great restaurants on the Boardwalk including my favorite signature the Flying Fish.  This restaurant astounds me with their service and the food is outstanding.  I'm a sports fan and I really enjoy ESPN Club.  Big River Brewery is a cool place for a beer and burger.  You just have so many adult choices on the Boardwalk for fun and you're staying right in the heart of it all.
There they are.   My favorite places to stay at Disney World.  The only one that may one day make my list would be the Wilderness Lodge once I stay there.  It's going to be tough to beat these three but maybe the Lodge could do it.