#1 – 'Ohana
Everyone knows my #1 restaurant on property in any category is 'Ohana.  First, it's located at my favorite resort the Polynesian.  I love Hawaiian and tropical theme of this resort and restaurant.  It's such a beautiful and relaxing resort on the monorail and only a boat ride away to Magic Kingdom on the Seven Seas Lagoon.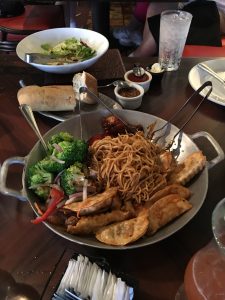 Second, it's the food.  Oh, my it's amazing and served family style all you can eat by a fun and engaging wait staff. To start, the sweet pineapple bread with macadamia butter gets you going.  You just have to be careful to save room for the next course. The side dishes served in a big round family style tray are stir-fried vegetables, sticky chicken wings, pork fried dumplings, lo mein noodles and salad that has a fantastic honey lime dressing.  I go crazy for the dumplings and noodles.  ("Can you bring us some more noodles?") If you've listened to the podcast long enough, you know another passion of mine is grilling out in my backyard.  They start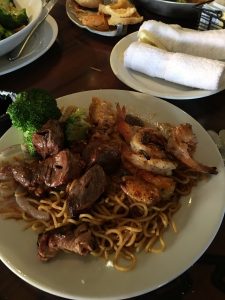 bringing you all the shrimp, pork and steak you can eat on these huge skewers hot off the open fire grill.  I can't say enough about the sweet and sour/peanut dippin' sauces too that I use liberally.  It's comical how much they try and stuff you with all this food.  I have to roll out of this place.  And if all that is not enough, the bring out the famous caramel bread pudding with vanilla ice cream.
Put a fork in me because I'm done!
#2 – Boma
My second resort favorite restaurant is Boma.  For starters, it's a great excuse to head out on a mission to visit an amazing, unique  and deluxe resort like the Animal Kingdom Lodge.  Especially if you've not yet visited many of the deluxe resorts.  Before or after dinner, make sure you walk around the resort and explore.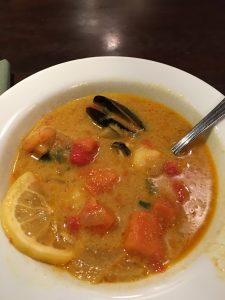 I'd also always suggest having a drink before dinner at the main lounge of a deluxe resort and the Victoria Falls Lounge overlooks the Boma restaurant.
After a drink at Victoria Falls, continue down the stairs to Boma.  It's an large open space, rich with color and a fun atmosphere.  I don't waste much time after the wait staff takes my drink order to make my way over to the highlight of the room which is the huge buffet.
Boma is a buffet so you know that's one reason I love it.  It's signature name of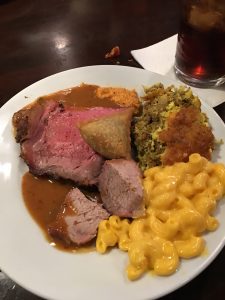 "Flavors of Africa" fits it perfectly because you're going to likely experience some great flavors you've not experienced in the past.  We always start in the middle of the line with the soups and they are the best on property.  The seafood gumbo is magnificent.  Again, think flavors.  Next, I fill my plate with salads.  I enjoy all the summer salads at the Disney buffets.  If I'm lucky, they'll have ribs.  Not everyday I've heard are ribs on the menu.  No worry.  I can still enjoy carved beef with a nice sauce, pork and I love the bobotie with lamb and egg.  If you have any room left, now it's time for dessert and the famous zebra domes await.  Mousse spiked with Amarula liqueur are treats loved my many Disney guests.
Believe me, Boma is a journey to take outside the parks and your taste buds will thank me.
#3 – Beaches & Cream
For my 3rd favorite, I'm going over to my second favorite resort, Disney's Beach Club and Beaches & Cream.  It's funny how my top restaurants are in my top favorite resorts(exception being Bay Lake Tower, my #3 favorite resort).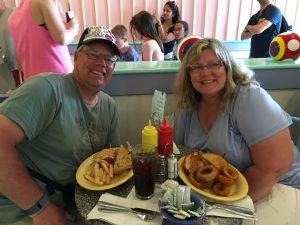 Next to Disney World, I love a beach vacation.  My favorite beach vacation is in Wildwood Crest, NJ.  Momma and I have been going there for 29 years.  It's located on the most southern end of NJ right next to Cape May, NJ.  We love to spend a day and evening in Cape May too.  It's amazing that Disney World has a whole area and resort that reflects the Jersey Shore and a restaurant buffet, Cape May Cafe too. (Which almost made my list)  I love this location, Boardwalk area, pool and close walk to EPCOT.
If you're not staying on the Boardwalk, it's a great plan while at EPCOT to make a reservation at Beaches & Cream for lunch or dinner.  It's a beautiful walk from the International Gateway of EPCOT onto the Boardwalk area and to the Yacht & Beach Club resort.  You'll get to see the best pool at the whole WDW resort property.  Beaches & Cream is just behind the pool.  It's a fairly small restaurant and popular so don't forget your ADR(Advanced Dining Reservation)
The atmosphere is a fun old-time soda fountain shop.  It's casual and the staff is fun.  For food, I love the basic burger and sandwich menu.  I love a good corned beef, sauerkraut with Swiss cheese reuben and this one is big and yummy.  I'm a big fan of onion rings and that's a good one for the side dish.  You don't want to fill up on your entree because ice cream is where this place kills it.  One of these days I want to tackle the kitchen sink.  It really does come in a kitchen sink to serve four people with lots of ice cream, all their toppings and a whole can of whip cream.  Yes, I watched them make and serve it with the room lights flashing and it's amazing.  My usual go to sundae is the No Way Jose that huge with peanut butter, fudge, vanilla and chocolate ice cream.
Oh yea! It's a happy and simple place.  Now go stroll the Boardwalk and then over to EPCOT to get ready for Illuminations.
That covers my top 3 favorite sit down restaurants at the resorts.  Make sure you remember to make the ADR's for the resort restaurants because they are some of the best on Walt Disney World property.