We've developed a simple planning spreadsheet tool that is very handy in organizing your days, resort reservations, dining reservations(with numbers), fast passes and park hours.  We text a pdf file to all of our travelers and it becomes an easy tool to look up on our phones to check out the day's agenda.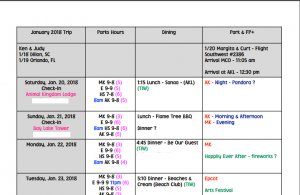 Here's a sample of our January trip agenda and I've attached the full url example below.  I've "whited out" our reservation numbers but you can see what a great, simple visual tool this can be for your trips. When you join our mailing list, you get a blank spreadsheet you can load into Google Docs or MS Excel and use for your trips.
Enjoy your planning!